Ladies Rolex Precision Cocktail Watch, 9ct, 1966 On Original 9ct Bracelet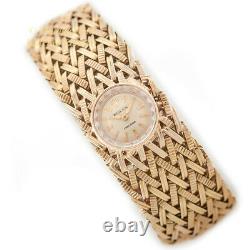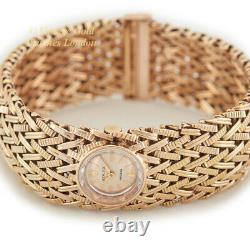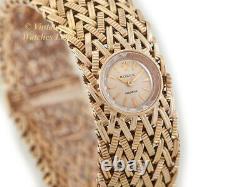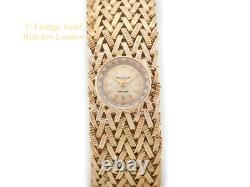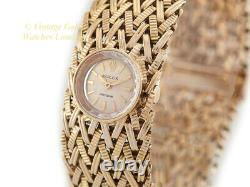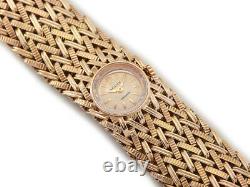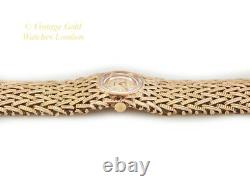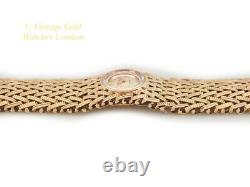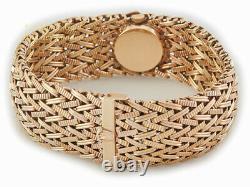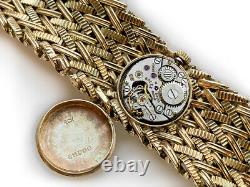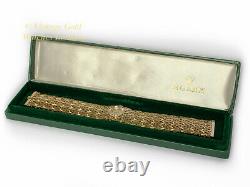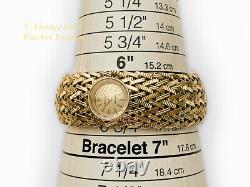 LADIES ROLEX PRECISION COCKTAIL WATCH, 9CT, 1966 ON ORIGINAL 9CT BRACELET. 100% Genuine & All Original.
Fully Serviced, Inspected and Guaranteed. A Delightful Well Cared For, Immaculate Example.
Case 15mm Diameter, Bracelet Size 20mm Wide and 17cm Long. Original Bracelet & Locking Clasp Fits a Max Wrist Size 17cm.
Beautiful Unrestored Silver-White Dial & Original Lancette Hands. 1601, 18 Jewels, Hand-Wound Movement. All Absolutely Immaculate and Simply Amazing Condition. Original Rolex Box Included as Shown.
VGWL Lifetime Authenticity Guarantee Included. These made up around 10% of all the Precisions produced. These were expensive watches at the time, due to it being much more difficult to produce the much smaller movements, to the same required levels of accuracy and reliability as those in the larger gents watches. The watch we have here is an absolutely amazing example of the ladies Rolex Precision cocktail watch in 9ct yellow gold from 1966. This watch is complete with its original integral bracelet, also in 9ct gold and made in the UK for Rolex by the famous watch case and jewellery maker, Roy King.
More on this to follow later. The condition of the bracelet, watch case and movement is superb, indicating this watch has only ever seen very light occasional and careful use. The Dial The silver-white dial with applied Pencil hour indices is, as can be seen in the close-up photographs, in superb condition. The dial is complete with its original Lancette style hands which are also tip-top, especially considering the age of the watch.
The dial is framed by a beautiful crystal effect bezel insert, which catches the light wonderfully. It is crowned with the usual Rolex Coronet at 12 and is signed Rolex with Precision below. At 15mm diameter, excluding the crown, this is quite a small watch in comparison with most others, however, the dial is quite easy to read, even at arms length. As this dial is in original, unrestored condition, this has been left alone and untouched by our restoration team, due to its superb condition. The Case The 9ct yellow gold case measures 15mm in diameter, excluding the crown.
The crown is unsigned but it is correct for this watch. Please note, the winding crown stem is slightly extended but remains hidden by the bracelet.
The watch is easily wound by running ones finger along the back of the crown. The hands are then set by pulling the crown proud of the bracelet. On the inside of the case-back, the markings are all correct and signed RCK which stands for Roy Cecil King, a famous English jewellery and watch case maker, who made the case and bracelet for this watch.
Based in Watford, Hertfordshire with a showroom in Mayfair London, he was very well known for making exclusive jewellery for the rich and famous. This would therefore have been an incredibly expensive piece in 1966! The case-back also carries London UK hallmarks which date this watch to 1966. The case is of a very solid two-piece design with an integral bezel.
This design improves water and dust resistance. The press-fit case-back clicks into place with a firm and satisfying pop, indicating it is a nice tight fit.
The case-back is of full thickness and has never been inscribed. This watch has exceptionally well cared for and has simply required a clean, thorough inspection, then a gentle hand-polish to bring it back to its current like new condition with no scratches, dings or other forms of damage visible to the naked eye. Please note our standard advice applies: Vintage watches should be kept clean and dry at all times. The Movement The high grade Calibre 1601, 18 Jewel, hand-wound movement is in incredibly clean and sparkling condition and has just been fully overhauled and serviced by our expert vintage Rolex specialist watchmaker.
Rolex went to considerable lengths and expense to ensure its 13.75mm diameter, Cal. 1600 series movements performed equally as well as its larger gents Precision movements, and they succeeded! These are indeed high precision movements and the example here is running perfectly, having been calibrated to run consistently within plus 9 seconds per day! This is truly outstanding for any mechanical watch and it is no exaggeration we have checked the test results on our electronic watch timegrapher.
This movement also has an excellent power reserve of 44 hours when fully wound. The movement is signed Rolex, Swiss, Geneve and 18 Jewels and is marked with the Calibre number 1601. This particular movement is in beautiful condition and with regular servicing, say every 3 to 4 years, we would fully expect this watch to continue to run very happily for many more decades to come. The Bracelet The original, integral Rolex signed bracelet is in matching solid 9ct yellow gold. The bracelet is in fantastic condition, showing no significant signs of wear or damage visible to the naked eye. 9ct gold is harder wearing than 18ct and because the bracelet is flexible, made up of hundreds of small pieces, 9ct would have been chosen to make the bracelet stronger and more resilient to wear. The bracelet is, as expected, superbly made and quite weighty and substantial. It is also in wonderful condition. While the links do not stretch, they are just flexible enough to hug the wrist beautifully with no gaps or unevenness in any of the links.
The bracelet remains at its original standard 17cm length, which means the watch and bracelet are a perfect fit for a lady with a wrist size/circumference of 17 centimetres. The original Rolex signed clasp and lock is superbly designed with a safety catch which securely locks, making the watch secure on the wrist. This means it is impossible for the clasp to become accidentally undone and for the watch to become loose on the wrist.
Please note the catch is not adjustable, meaning this watch will not fit a larger wrist. However, it could be tailored to fit a smaller wrist. If upon purchasing this watch, this becomes necessary, we will be pleased to arrange this for you at our cost price. Please call or message us to discuss this, or if you have any queries about the bracelet or any other aspect of the watch. Box and Papers Although there are no original papers with the watch, the numbers and markings are all correct, dating this watch to 1966. The original Rolex presentation box shown in the photographs is included in the sale. In Conclusion This is a superb, highly collectable and totally usable vintage watch from horologys most famous name, which will provide an excellent financial investment as well as be something to treasure and enjoy! It will make the perfect gift as well as a practical, accurate and reliable timepiece to use on a regular basis, as you so wish. A word on our prices We always try our hardest to acquire the very best quality watches we can find, before then restoring these to the highest possible standards. We then offer these at the fairest prices we can, taking into account our pre and post-sales care and service. This approach means we will never be the cheapest, but nor will we be the most expensive.
Indeed there are some well known stores in West London which are highly successful, charging between two to three times the price you see here. We therefore consider our prices to be fair, given the quality of watches we have to offer. However, if you would like to pay by UK cheque or by UK bank transfer we will be pleased to assist you with this and pass on a 3% saving to you. Similarly, if you wish to pay by International SWIFT or Bank Wire Transfer we will provide you with our BIC / Swift number and our IBAN number.
Please take a look at our other fine vintage gold watches. Each package travels through a secure network which is separate from the regular post. The progress of each package is monitored at every stage via a bar-code tracking system. The cut-off for this service is 2pm. From time to time Vintage Gold Watches may elect to use another courier for some destinations. All our deliveries are insured independently for loss or damage. Deliveries must be signed for by an adult (defined as person aged 18 or over) at the given address. Please ensure that your package is intact before signing for it, as once signed for, responsibility for the order is transferred to the customer and all liability for loss, damage or theft is transferred from Vintage Gold Watches to the customer at this point. Collection: Watches may be collected by prior appointment from our offices in Bayswater, London W2. Watches will not be available for collection without an appointment. Our safes are time-locked from Friday until Monday during which time the staff have no access to our stock. We dont want you to have a wasted journey, therefore an appointment is advised.
We at Vintage Gold Watches will never see these details and so there is no risk of us losing them. In addition to being belt and braces secure, this also has the great advantage of being the fastest way to pay, wherever in the world you happen to be. We encourage our UK based customers to pay by UK bank transfer. You simply request our bank details i.
This is also known as a Bank Wire Transfer and similar to a bank transfer within your own country, except your bank will request our IBAN number and our BIC /Swift Number. Vintage Gold Watches London : Passionate about excellence. We particularly love this time period for its elegance, craftsmanship and quality. In fact, we consider this to be the golden age of Swiss watch making, when technical superiority, craftsmanship and design, each combined to provide us with some of the finest timepieces ever made. We are great admirers of 1950s vintage gold watches from Rolex, Jaeger-LeCoultre, Omega, Longines, IWC , and Zenith and so these form the basis of our collection. Each of these famous watch houses offer something different in terms of character, style and personality. Rolex is of course the most famous, most notably for the robustness of their movements and the record breaking success of their early automatics and Chronometers. However each has their own claims to fame and are on par and in some ways even better than the biggest brand which wears the golden crown!
Then, and only then, if we factor in double digit investment potential, we have something of great appeal and which really adds up! We are very happy to speak with you for as long as you wish, about the key points and differences around all the watches you see here. Wed like to hear your preferences and to help guide you towards the perfect watch you really are seeking! As we often have up to 25 watches undergoing full restoration at any one time, it may be that we have exactly the watch you are looking for, becoming available very shortly! You may for example be seeking a watch manufactured in your birth year, or a watch with a particular kind of dial, or size or price.
If so, please let us know as we may already have something of interest in stock. We have strong connections with a good number of fellow watch dealers, so we may well be able to find you a good example of exactly the watch you are seeking much quicker than hours spent on your own.
Then if necessary, we will restore a watch for you, using only original parts to make it look as good as the rest of the watches you see available on this website. For simplicity and your own convenience, we try very hard to select and restore watches only of a similar high standard. All are fully overhauled and restored as necessary to bring the watch back as close as possible to its original condition. All have beautifully restored dials and movements and come with solid gold cases without any personalised inscriptions.
Generally and where possible, all of our watches have original crowns and lenses fitted. While Rolex, Jaeger-LeCoultre, Omega, Longines, IWC , Zenith are the watches we specialise in, we are also willing to source other watches for you if you wish. For more information on this, please see the Need Some Extra Help Finding Your Watch?
Section below and further details in our FAQs. A Vintage Gold Watch as an Investment.
It is rare indeed to find an investment a gentleman can wear. This intrinsic value is solid, reliable and as perpetual in fact as the timepiece itself! If we were to take a quick look at trends since 2010, we will have seen double digit growth each year, across each of the collectible Swiss watch houses seen here on this site and since the new markets for high quality vintage Swiss watches expand, in China and across the developing world, the positive effect on prices is likely to continue in the foreseeable future. This situation is not unique to vintage watches Antique guns, classic cars and motorcycles, antique scientific instruments and some mechanical toys also qualify as wasting assets in the same way.
But to repeat, ask your financial advisor about this. And perhaps, at the same time, you might ask why he/she hasnt mentioned this before!! A Vintage Gold Watch in everyday use. It is useful here to consider there are some similarities, in fact quite a few, in owning a vintage watch and owning a vintage car For example, a carefully chosen vintage car, which is regularly maintained and well cared for, can be relied upon in day to day use, quite satisfactorily for a very long time. The same can be said of a vintage (Swiss) watch.
Even though a Swiss watch is superbly engineered with legendary Swiss reliability, a vintage watch remains a piece of micro mechanical engineering, made say over 50 years ago and therefore one may not expect the ultimate performance and reliability of its modern equivalent. For example a vintage automatic watch may still need help with winding from time to time simply because vintage automatic watches are not as efficient as modern ones. Also typical accuracy may vary by say up to + or 30 sec per day. However please note, when we restore a vintage watch we aim for a better than ± 10 sec / day accuracy, when it leaves our hands.
It is best to keep in mind that gold, particularly vintage 18ct gold, is a relatively soft metal alloy which is by no means as hard wearing as the modern equivalent. Therefore some care will be needed to avoid scratches or other damage, which will affect the value of your watch. It is also crucially important that vintage watches are kept away from water, dirt and dust. This is because a vintage watch is unlikely to be be water-proof, no matter what the original specification. We do not test this and it is not guaranteed therefore water and dust must be avoided as these will definitely cause harm if they come into contact with the movement. Need Some Extra Help Finding your watch? If you have a clear idea of the watch you are looking for, but your search is not proving very fruitful, or it is taking up too much of your time, why not let us do the searching for you? After all we do this every day and we enjoy it! We will undoubtedly have many more sources and contacts than your good self and for a deposit we will happily beaver away for you until we have found you just the watch you are looking for.
We are particularly good at finding watches which have dates which coincide with a special birthday or special anniversary. Please see our FAQs for more details. Need a little Time To Pay for your watch? It is so simple we take a 20% deposit and provide you a sales invoice for the watch for the full price. No interest is paid because no loan is made!
For more background about Vintage Gold Watches and our services please see our FAQs. How do I know that all your watches are absolutely genuine? This is a sensible and natural concern and one we get asked about a lot.
We try to address this in the following manner. Firstly we do assure you, all of our watches are 100% genuine, authentic and completely original, As you will see, this is clearly stated on every one of our listings. By this we mean no after-market internal parts or worse, molestation of the movement! Further, all the numbers on the movement are correct and the watch case is properly hallmarked and marked with all the brand and references which match the date of the watch. Also the watch has the correct dial for the model and year. We take this very seriously and we stand by this with our unique Lifetime Authenticity Guarantee , covering every watch we sell.
These dealers dealers, are very well established and also have strong reputations to protect. Additionally of course, we rely on the lifetime of experience of our vintage specialist watchmaker, who inspects and confirms the authenticity of each and every watch we sell.
Our unique Lifetime Authenticity Guarantee is provided with every watch we sell. We do this not only for your reassurance but so that if we make a mistake, we would prefer to be the first to know and have an opportunity to provide you an immediate remedy. We also try to provide you some the Highest possible resolution photographs available on the Internet.
This is to give both expert and inexperienced buyers alike, the best possible view of each and every watch, from each and every angle! In fact our photographs are so large, you will see much more detail, including of the movement, than you would normally see if the watch was bought over the counter on Bond Street London or the Burlington Arcade in London W1. Indeed more also, than if the watch was on your wrist! Even under a high power magnifying glass!
Of which we have seen none larger, so far, from any vintage watch dealer on the Internet! Incidentally, a quick word about fake / copy watches. For a number of reasons it is more difficult and less lucrative to recreate, vintage watches rather than new, or nearly new ones. Therefore there are much fewer fake/copy vintage watches made, when compared with new, or nearly new, high end brands.
And if a fake / copy vintage watch is produced, it is much more likely to be of a particular, very high end watch. Ok I now feel more reassured about your watches, but who are you? Vintage Gold Watches is a partnership, based in Bayswater, London W2. We are very close to the North (Noth-West) side of Hyde Park and very handy for three tube stops as well as Paddington Railway Station.
Plus of course, Internet prices and convenience. As we are predominantly an online business, you will benefit from considerable savings when compared with similar vintage watch dealers with expensive retail premises and other large overheads. Indeed there are some excellent London based bricks and mortar vintage watch dealers we can point you to with prices double!! The prices you see here!
And who are the Partners? Alan , is the principal partner who has been a passionate collector of vintage watches for over 25 years. In 2010 he decided to turn his paying hobby into a full-time business by forming a partnership with Brian, another lifetime collector and trader in vintage watches. Similarly in 2012, Martyn a watch collector joined us along with Louise who handles our accounts.
Then there is our genius, independent repairs and restoration team, which includes two watch makers, a watch dial restorer and a watch-case maker. We consider our primary suppliers to be business partners, because we work so very closely with them. How do we do this? The simplest way, is if you like the look of a watch and would like to try it on and see how it feels on your wrist, we recommend you to order and pay for the watch online, or indeed by calling us and paying over the telephone. There is no obligation to keep the watch at this point, because you have 14 days from the date of arrival to decide if you wish to keep the watch.
Please note we fit high quality, mostly genuine crocodile straps to all the watches we sell and if a watch has been worn and the strap shows signs of use, we reserve the right to charge for a replacement. If you are overseas, we are sorry but this policy does not apply.
I would really prefer to visit you and view a watch before I pay for it. Yes, you are very welcome to pay us a visit if you have a particular watch in mind and you would like to view it. However, as we are an Internet only business we do not have a showroom as this would significantly add to our overheads and therefore our prices. If you would like to meet us and view a watch, we will be very pleased to arrange a rendezvous at one of the larger hotels close by where you can relax over a coffee or tea and biscuits on us! And depending if you are using the Tube, Rail, or car, there are three Hilton Hotels within 2 miles radius of us to choose from!
We will of course do our best to fit in with your schedule. Bank Transfers (/Wire) and Bankers Drafts (Photographic ID must be provided). Please allow 2 days for funds to be cleared and for administration and security checks to be carried out. So far all of my watches have been battery powered. Please could you explain Automatic and Manual or Hand Wound Watches? Most high-end watches come equipped with an Automatic or Manual watch movement.
These movements are not operated by a battery as they are in a Quartz watch. The automatic watch will continue to keep time through the self-winding mechanism from the movement of your wrist over the course of the day, if the automatic watch has been sitting for a period of days and has not been stored on a watch winder it may need to be wound to set the time and build up a power reserve. A manual watch will need to be wound by hand and set every morning to keep time throughout the day. Has this watch been checked over and properly serviced?
Yes indeed, all of our watches are fully inspected, cleaned, serviced and calibrated by a highly experienced professional watchmaker, before listing on our website. Most of our watches have also been fully restored. So in addition to a mechanical overhaul, the case and dial will be restored. This is highly specialist work which is carried out by expert craftsmen and we use the best we can find.
The watch case is carefully cleaned in a special solution and inspected for any weakness around the lugs, seams and case-back. And if necessary these are strengthened, invisibly, by adding more gold to the inside of the case. The case is then very lightly and carefully polished to bring out the highlights and make it look (almost) new again. Where necessary the dial will be expertly restored (or refinished) by one of the foremost expert dial restorers in the UK.
This is incredibly specialist work which involves very carefully stripping the dial of any paint and lacquer. The dial is then repainted and refinished using the same processes, or better, than the original. In this way, the best restored dials look as good as new and may well last longer than the original. Vintage watch case and dial restoration at this level is so good it often defies belief.
For more information please see Servicing / Repairs / Restoration at the very bottom left of the home page. Please could you explain Automatic and Manual or Hand Wound Watches.
What may I reasonably expect, in terms of accuracy, from my vintage wristwatch? Please see the table below. Type of watch and seconds gain/loss per day: Worst Typical Best. Vintage mechanical Swiss watch in good repair +/-60 +/-15 +/-5.
Modern mechanical watch non-certified +/-10 +/-5 +/-2. Modern mechanical watch chronometer certified +6/-4 +/-3 +/-1. Modern quartz watch non-certified (normal) +/-2 +/-1 +/-0.1. Modern quartz watch chronometer certified (rare) +/-0.02 +/-0.02 +/-0.0.
Please can you explain to me all about Gold measurement and K, k, ct, karats and carats. And Yellow gold, White gold, Rose, Pink, Red and more? A Carat (Ct or ct) is a weight measurement in reference to precious gemstones such as Diamonds, Sapphires, Rubies. Depending on where you are in the world a Carat may also be used in place of the term karat. However the term karat is never used in regards to gemstones. A karat (K or k) is the measurement of the purity of gold. Gold itself is very soft, and like silver, it needs to be alloyed with other metals to make it stronger and less expensive. 24 karat gold is considered pure gold, or 100% gold. To prevent this, gold is alloyed with metals such as silver, copper and zinc. When producing white gold alloys, nickel, copper and zinc are used. So, the karat is measured by the ratio of gold to the alloyed metal. 750 contains 75% pure gold.
585 contains 58.5% pure gold. 417 contains 41.7% pure gold. 375 contains 37.5% pure gold.
10k 14k and 18k are standards used in the U. 9k and 18k are standards used in the UK and Europe. 1 karat of gold = 1000/24. So 9 karat is 37.5% gold. Divide the carat of gold you have by 24 and the result is the percentage.
The remaining percentage of the metals are based on the type of gold you have. Rose, Red and Pink Gold Copper, Silver. White Gold Nickel, Zinc, Copper. Green Gold Silver, Zinc, Copper.
This involves completely dismantling a watch for cleaning and close examination, replacing parts with genuine originals, rebuilding and then testing and calibration. Almost always, the dial and case will also require professional restoration. This is quite often a watch which has been passed on from father to son, or it may have been grandpas watch which has remained in the back of a drawer for many years and become part of his estate.
Sentimental reasons aside, it is almost always worthwhile to repair and restore a vintage watch and as long as the watch has not been too badly damaged through corrosion or abuse. In some cases, minor miracles can be achieved in the hands of our experts in bringing good quality vintage watches, back to life! In more detail, repairs and restoration may involve any or all of the following. The Movement It is often surprising just how long a high quality Swiss watch movement will last.
The answer is, with care and regular servicing, almost indefinitely. This is not only because Swiss watches have always been so very well made, but there is almost always a good supply of parts available for replacement, so it is well worth keeping your watch properly serviced as this will prevent the lubrication from drying out on critical parts of the watch, therefore prolonging the life of the parts and so the watch. The Case Surface scratches will occur with use and are usually no problem as these can often be removed without any loss of definition to the case. Deep scratches and engravings are far more difficult to repair / restore, but can be repaired by a specialist wristwatch case-maker. If the case is in very good original condition and has never been polished, it is better to clean the case and not polish it, in order to retain the original look and feel of the watch.
The Case-Back Unwanted engravings can be successfully removed, again by a specialist case-maker. The results can be dramatic with no loss of thickness of the gold. However this is highly skilled work and an estimate can only be provided when we have inspected the case-back.
Lugs Where the strap or bracelet fixes to the case, one of the four lugs can become damaged or even break away, but this can be repaired. The Dial Scratched, pitted and mottled dials can be restored or refinished to a very high standard. If the best dial restorers are used, the results are often spectacular and as good as new. However, this again can be expensive and if the dial is in good condition, it may be better to leave the dial alone to retain the originality of the watch. The Hands/Winding Crown Over many years, hands and winding crowns are often replaced with generic crowns. We can usually source period hands/crowns but these can be scarce and expensive. The Lens While scratched acrylic lenses can be polished, we prefer to replace.
A little more expensive, but in our opinion, well worthwhile. To summarise, the restoration of a valuable vintage gold watch can be expensive, but almost always worthwhile. The cost is usually less than the value added to the watch and perhaps more importantly, brings back to life something which will always be treasured and enjoyed for generations to come! ROLEX OYSTER PERPETUAL'DATE', 14CT, 1978 - ABSOLUTELY IMMACULATE! ROLEX PRECISION'COIN EDGE', 9CT, 1959 - HIGHLY COLLECTABLE AND IMMACULATE!
ROLEX PRECISION CHRONOMETER, 18CT, 1947, 34MM - IMMACULATE! ROLEX PRECISION CHRONOMETER COIN EDGE, 18CT PINK GOLD, 1942 - RARE & IMMACULATE! As well as a web destination, "Vintage Gold Watches" is a partnership based in Bayswater, Central London (W2) U.
Servicing / Repairs / Restoration. Stay up to date with our special offers & promotions.
The item "LADIES ROLEX PRECISION COCKTAIL WATCH, 9CT, 1966 ON ORIGINAL 9CT BRACELET" is in sale since Friday, August 14, 2020. This item is in the category "Jewellery & Watches\Watches, Parts & Accessories\Watches\Wristwatches". The seller is "vintagegoldwatcheslondon" and is located in GB. This item can be shipped worldwide.
Brand: Rolex
Movement: Mechanical (Hand-winding)
Display: Analogue
Watch Shape: Round
Case Material: Solid Gold
Strap Material: Solid Gold
Case Size: 15mm not including the crown
Style: Dress/Formal
Model: Precision
Number of Jewels: 18 Jewels
Age: Vintage (1920-1970)
type of gold: 9ct Yellow Gold
Department: Women
Age Group: Adult
Strap Colour: Gold
Strap Type: Bracelet/Link Band
Dial Style: Non-Numeric Hour Marks
Dial Colour: Silver-White
Case Colour: Gold
Year Manufactured: 1966
Caseback: Press-fit
Type: Wristwatch