9 CT Yellow Gold Filigree Bracelet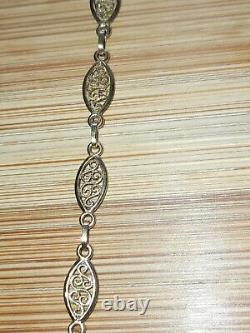 9 CT Yellow Gold Women's Filigree Bracelet. This delicate looking bracelet is actually very strong, and easy to wear on a daily basis, or dress up for the night, with other bracelets or necklaces you have. It's pure 9ct Yellow Gold. Evert link is done by hand, and it's really well made. It catches the light, beautifully.
The clasp is brand new on it, it's never been worn. Still highly polished and not used. But because its on here, it immediately ecomes a used piece, of which it's not!!
Some jewellery now that I've seen for sale is so thin, I would not trust it to stay on and the price is sky high, and it's not even pure gold!