Snake Bangle/Bracelet 9ct Yellow Gold Vintage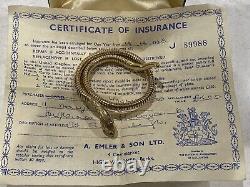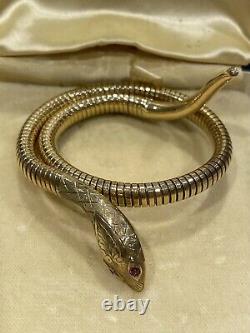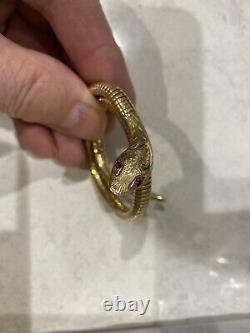 9ct Yellow Gold Vintage Snake Bangle. Handmade in the Historic Birmingham Jewellery Quarter, England, United Kingdom. 9 Carat - 375 Gold. An original 1 owner piece with provenance from a pet and smoke free home.
Weights and Measurements are approximate. 9ct Yellow Gold single coil Ruby set Snake Bracelet or Bangle designed following the discovery of Tutankhamen's tomb in 1922, this unique ruby set bracelet has become a classic. The snake body is flexible and contains a steel spring to grip the wrist, the head and tail are hand engraved on top and plain highly polished underneath. Snake Bracelets are unique pieces of jewellery that are worn as a delightful adornment on the wrist. These special Snakes were designed as the interest in Egyptology reached its peak with the discovery of Tutankhamen?? S tomb in the 1920s. These Egyptian bracelets have been popular with jewellery lovers ever since, and have a timeless design quality that is hard to resist. The snake bracelet coils round the wearer?? S wrist, and features a flexible body with an internal secure steel spring.